Reviews of Appalachian Paradise
Book of the Year Award for 2002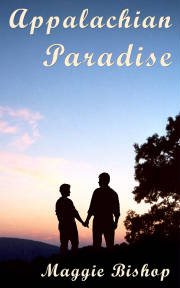 Click photo to Order Autographed Copies page
Reviewer- Char, romancejunkies.com

Blue Ribbon Rating- 4.5

*REVIEW*

Suzanne Bowers has been accused of being single-minded and detail orientated and she admits she is guilty on both charges. She plans out everything in detail and she never—never—deviates from her chosen path. Her childhood was filled with broken promises and endless money problems because her father refused to work and spent his time drinking. Her mom supported the family and her father's drinking habit and ended up working herself to death. Suzanne decided at a young age that she could only depend on herself and she has no desire to get married and take on the responsibility of anyone else.

Suzanne has succeeded in her chosen career and has been promoted numerous times. Unfortunately she is now experiencing physical problems contributed to stress and has been ordered by her physician to take a vacation and relax. Suzanne being who she is has now tackled her vacation like the rest of her life and has set the goal of hiking in the Appalachian Mountains near her Uncle's cabin. She has planned every detail of the trip down to the minute, but she hasn't planned on Wes Avery; the man her concerned Uncle has sent to keep an eye on her.

Wes has been friends with Suzanne's Uncle, John, for years and has heard many stories about John's niece and how particular and stubborn she can be. He had never had the "pleasure" of meeting her, but she didn't really sound like his type anyway…to uptight. When John asks Wes to keep any eye on Suzanne on the trip, Wes figures he is in for a long, boring hike, but thoughts of boring go straight out the window when Wes wakes up at John's cabin with Suzanne's lips getting acquainted with his lips. Wes knows that Suzanne is the woman he will spend the rest of his life with; now all he has to do is get Suzanne to "slow down and smell the wildflowers" on their hike and convince her that he is the man of her dreams.

APPALACHIAN PARADISE by Maggie Bishop is a beautiful and heartwarming hike down the path of finding true love. Wes is an outstanding hero who finds his soul mate when he least expects it and through his patience and love helps her discover what she really wants in her life. This story grabbed hold of my heartstrings from the beginning of the book and didn't let go until the end. I was completely drawn into Wes and Suzanne's life and it felt like I was there on the beautiful hike with them. If you are looking for a book that leaves you feeling all warm and fuzzy inside, please pick this book up and be prepared to fill your heart with love and happiness.

"A devil-may-care hero, a feisty heroine and rich Appalachia flavor combine to make Maggie Bishop's first romance a rewarding read. A back-packing trip and its complications, along with romance and well-delineated characters are a recipe for an afternoon of enjoyment." Karen Rose Smith, author of 41 romances

"Wish you could spend days trekking over pristine North Carolina"s mountains? Put your feet up, instead, and follow this pair on their Appalachian climb with camp-out nights, bear sightings, and love-making under the stars." Marian Coe, award-winning author of Eve's Mountain.

There should be a special category for books you save up until you get snowed in. A crackling fire, a comfy couch, a cozy afghan over the toes, a purring cat/mellow dog curled nose-on-tail nearby--all we need is something steaming and spicy in a mug by our elbow, and something steaming and spicy from the "Snow-Day" shelf in our hands.

For readers who enjoy steam and spice with their romance, APPALACHIAN
PARADISE is the book. As hot as whatever is in the mug, with characters we enjoy spending down-time with, this book is the very thing to accompany an unexpected day off from hard work and good behavior.

Suzanne Bowers is a high-maintenance urban professional determined to do it all and do it right. She takes her therapist's advice to get away from her uncongenial job, buys all the right gear, reads all the right field guides, and drives to her uncle's cabin to start a carefully scheduled hike, hoping that when she gets back, her office staff will have become more cooperative and programmable.

Little does she know that the cabin-owning uncle has conned easy-going charmer Wes Avery into seeing Suzanne through the adventure. When Suzanne arrives at the cabin to find Wes asleep on the couch, she remembers her self-defense classes and clobbers him--not before tripping and falling on top of his sleeping--and very buff--body.

ZING!

Along the trail, Wes and Suzanne quarrel, bicker, banter, tease, learn, and, in the course of natural science, fall in love (and lust). Suzanne's flaws are such that we root for her to work them out, for Wes to wake her up, and for both of them to make each other happy. I can think of few better ways to spend a snowy day.


Carolina Mountain Living

---

Readers, you are in for a special treat when you pick up APPALACHIAN PARADISE. In today's busy world of doing everything by schedule, on the double, it doesn't leave much time to smell the roses, so to speak. If you recognize yourself in the heroine's lifestyle, it's time to change. <Grin> This is a book you will have a lot of fun reading -- it's rewarding, thought provoking, and filled with a heady dose of the love bug.

Suzanne Bowers is a high- powered career woman who works in computer programming. Her days are run by a schedule of exercise, work, work, work, and being in control of her feelings at all times. She's been ordered to relax by her therapist, so she decides to take a five-day hike in the mountains of North Carolina when her favorite uncle lets her use his cabin.

Unbeknownst to Suzanne, Wes Avery, a man with enough southern charm to break a ton of hearts, is also headed for Uncle John's cabin. Wes has to pay off a debt to watch over Suzanne by Uncle John and her estranged father. Wes is laid back and totally different from Ms. Control. Oh, boy, let the camping games begin as Wes and Suzanne set off on a five-day hike that is filled with humor, insightful delving into each others' souls, looking at life in a new perspective, and the love of a lifetime has a great possibility of fruition.

Suzanne "Wishing I was hiking with the divine Wes right now. Just hearing him call me "Darlin'" would be enough to keep me warm."

"Appalachian Paradise is a romantic adventure that will touch your heart in all the right places. Ms. Bishop spins a beautiful love story that will make you laugh, cry and sigh. It's about redemption, renewal, hope and taking a chance on finding the partner of your dreams if you're willing to take a chance on love. I'm putting Appalachian Paradise on my keeper shelf to reread whenever I need a lift. Yes, it's that good!"

Suzanne Coleburn, winner of the Melinda Helfer Fairy Godmother Award 2002/Reader to Reader Reviews

| | |
| --- | --- |
| | Order Appalachian Paradise is $9.95 + $3 ship = $12.95 |
Copyright Notice
Appalachian Paradise - Copyright @ 2002 and Emeralds in the Snow - Copyright @ 2004 by Maggie Bishop, Author
All rights reserved on all material on all pages in this Web site, plus the copyright on compilations and design, graphics, and logos. For information on reprinting material from this site, please contact