Maggie Bishop, Author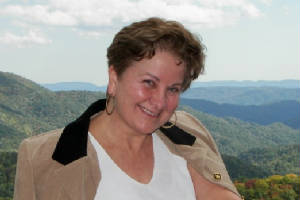 photo by Ree Strawser
Maggie Bishop is the author of a mystery series, Appalachian Adventure Mysteries, and two romance novels set in the Mountains of North Carolina in the Boone area. "I started with romance and have turned to murder."
The Start: In MURDER AT BLUE FALLS, when her horse finds a body, CSI wannabe Jemma starts to investigate, Detective Tucker comes in and it twists and turns from there.
And Then: Since pay is low in the mountains, Jemma has more than one job and is also a carpenter. In PERFECT FOR FRAMING, trouble's a-brewing in the Property Owners Association where greed and a lust for power lead to murder in a clash of personal versus public needs.
Now: The photography group meets at Blue Falls Guest Ranch and soon there is ONE SHOT TOO MANY which features Detective Tucker with yesterday's regret haunts, leading to today's deadly fix.
If you like whodunit mysteries full of clues and suspense in a vacation paradise, you can find these books on Amazon, Barnes & Noble, Smashwords, and other book and e-book retailers.
In the Appalachian Adventure Romance series, Award winning APPALACHIAN PARADISE takes place on a five-day backpacking trip in the spring amongst the bears, boars and girl scouts. With this book, you can take the hike without physically taking the hike. EMERALDS IN THE SNOW involves downhill skiing at Sugar Mountain, an emerald mine, and a cold case mystery.
The fun book, Meow Means Me! Now! is a rhyming feline allegory with poetry and photos. This gift book is a departure from novels but sprang from a love of cats . Think Dr. Suess meets Marley & Me.
Maggie Bishop hikes, skis, climbs, swims, explores and writes in the mountains of North Carolina where she settled in 1993 with her husband and cat. Every time they travel, they seek out other mountains but none are as exciting as the ancient Appalachians. When asked, "What do you do?" her answer is, "Entertain with word pictures."
She was awarded the honor of being one of "One Hundred Incredible East Carolina University Women" for literature and leadership. She's an Air Force brat who put herself through East Carolina University and received a MBA degree, a former manufacturing executive, founder and past president of High Country Writers, past Secretary of Central Pennsylvania Romance Writers, and is a member of Romance Writers of America and Sisters in Crime.
How are these North Carolina stories?
Besides being set in the Appalachian Mountains in North Carolina, they capture the spirit of southern life, particularly those folks from back in the hills. For example, the local characters display being poor in money but generous in helping others and loyalty to kin.
Did you find some characters developing in unexpected ways?
Yes, Aunt Alma was not as cantankerous as I pictured her in the beginning. She's an import to the mountains, but embraced the hard working attitude as soon as she arrived. The softening of her single-hood surprised me.
Unlike many romances and mysteries, why do older adults play important roles in your novels?
Southern culture embraces family history. People remain involved with their kin and often live nearby. Many older people live alone by choice but loved ones keep an eye on them. The idea of someone over sixty with the capacity to flirt, even fall in love, is enchanting to me. Love in all forms can grow stronger as life progresses.
Why do you include sports in your mysteries and romances?
Life as is writers is solitary and sedentary. If I didn't involve myself in an outside activity, my blood would become sluggish, my brain would coagulate, and my imagination would stall. Hiking in these mountains renews my connection to the earth, trees, other animals, clean air, sparkling streams–everything that enhances a person as a whole. If a person is too busy to break away and do something away from concrete, a short break through my novels will help. I did a five-day backpacking trip like in Appalachian Paradise. I love to ski and was a ski patroller at Sugar Mountain like in Emeralds in the Snow. Some of my fondest memories with my husband were on dude ranches so I set Murder at Blue Falls at an imaginary ranch in my valley near Triplett, NC. I also enjoy swimming and golf. The forth novel in the Appalachian Adventure series involves climbing.
Why do you include real people in your novels?
Jane Wilson, author of the cookbook, Mountain Born & Fed, inspired me to use real people like she did in writing up stories about her recipes. It started in the second novel when I wanted to include fellow ski patrollers who are also my parents, Pearle and Lyle Bishop, mountain manager Gunther Jochl, and mountain groomer Joe White. Joe White's real job is shoeing horses which fits into the dude ranch story. He gave me permission for him to be a suspect. I list the real people in the acknowledgments, everyone else is pure fiction.
Since the male lead characters in the Appalachian Adventure novels are cousins, how do you keep track of the relationships?
I made a family tree which meant I had to create characters who will never be used in my novels but were necessary for me to understand who connected these four cousins. Plus, I had to keep track of siblings mentioned in various novels. This technique is commonly used in broad sweeping historicals but is not necessary for most contemporary fiction. Besides, it was fun!
Do you plot in advance?
Not much. I have the setting, current day in the mountains near Boone, NC. I decide the sport and I know the name of the male cousin involved. In Murder at Blue Falls, Detective Tucker came to me while on a beach trip with my parents. We stayed at a place with no TV or phone in the rooms. Around 6 am, I sat on the deck overlooking the ocean and a small deer walked by. A few minutes later, a bobcat followed the same trail. Unbeaconed, Detective Tucker sprang to mind, full blown, and I started scribbling on a notepad. Since he was a detective, he needed a puzzle to work on. The one novel I did plot in advance, I destroyed. My sense of discovery was gone. I prefer to have the story come to life as the characters become active.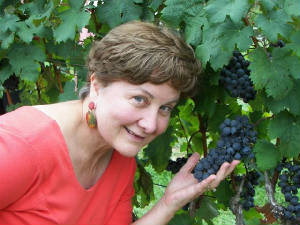 Photo by Ree Strawser
Maggie Bishop, Author, Biography (Expanded)
Maggie Bishop was born in the little town of Union City, Pennsylvania (near Erie), but left before the year was out. Her father was in the Air Force and moved the family to San Antonio, Texas, where her brother count jumped to four from two. The family moved every few years throughout Maggie's schooling to England, Germany, Missouri, North Carolina, Oklahoma, and then back to North Carolina. Her parents instilled a love or reading, travel and cultural diversity in all their children. Maggie is game to sample foods from all regions of the world.
In 2007, Maggie Bishop was selected as one of East Carolina University's 100 Incredible Women. She put herself through East Carolina University in Greenville, NC, sometimes working for the swimming coach. "Coach Sharf had a glassed-in office, level with the high diving board. I'd sneak moments to admire the divers' forms and the swimmers' techniques, not to mention anatomies," she admitted. Her electives were in dance, not literature. In those days, she focused on getting a business degree.
Years later while working in the corporate world, she asked a secretary if she could borrow a book to read on vacation. That one contemporary romance paperback changed the course of her life. Maggie devoured four hundred in one year. "My husband couldn't understand the addiction. My nose was in a book all the time, even while in the car at stop lights. At home, Bob would have to call me several times to break my concentration and get my attention."
One evening while driving home from work at Danskin in York, PA, she decided that she could write a romance. She'd been absorbing the rhythms of the stories, the variety in plot lines, the depth of characters. The decision to write was easy – the execution was the hard part. Maggie joined the Romance Writers of America and had a crash course in the craft of writing by attending their national conferences.
In 1993, Maggie and Bob moved with their cat to the mountains of North Carolina. Her father had built a house into the side of a mountain, which Maggie and Bob bought, then kicked her parents upstairs where they live above ground. "I go upstairs every morning for coffee and a visit with Mom and Dad. Other than that, we live separate lives," Maggie explained.
Writing is a solitary endeavor so she started High Country Writers in 1995 and now has an extensive group of writer friends throughout the North Carolina-Tennessee section of the Appalachians. She spends her time when not writing or attending book signings and other book related events hiking, skiing, swimming and reading.
Maggie's latest novel, Perfect for Framing, will be out in the Fall of 2008. She is the author of two romance novels and one mystery set in the Mountains of North Carolina in the Boone area. Murder at Blue Falls, released Fall of 2006, has Jemma who leads trail rides on her parents' guest ranch as a suspect in the murder of neighborhood dogs and well as a man. Emeralds in the Snow involves skiing at Sugar Mountain, an emerald mine, and a cold case murder. Award winning Appalachian Paradise takes place on a five-day backpacking trip in the spring amongst the bears, boars and girl scouts.
Maggie's fun book is now available. Meow Means Me! Now! is a rhyming feline allegory with poetry and photos. This gift book is a departure from her novels but sprang from her love of cats
.
Maggie's interview on Suite 101
| | |
| --- | --- |
| | |
| | |
Interview
Hi Maggie and welcome. I am so glad you could join us here at
RomanceJunkies. To start, will you please tell us a little bit about
your current projects?

I'm starting another Romantic Suspense with the same characters as in MURDER AT BLUE FALLS. Jemma, the CSI wannabe, puts in her application to join the Watauga County Sheriff's Department and Detective Tucker has mixed feelings about that. While on a carpentry job, Jemma listens to gossip about a rogue POA President (Property Owners Association) whose love of petty power has gone to her head. Jemma and Tucker have to decide if their budding relationship can be toned down to that of merely co-workers.

If you could change one thing about your writing habits, what would it be?

A longer first draft. I'd like to have more details the first time through but I'm so interested in what comes next in the plot that I tend to skip a lot of the fun stuff. That means that I spend a lot of time during the second draft adding hints and clues and even reordering events.


What is the one thing you'll never change?

I tried to outline first with one manuscript and ended up losing interest. It was so bad that I eventually destroyed all evidence of the story - both hard copy and disks. The discovery of the plot as I go along is what keeps me in the chair in front of the computer day after day.

Every writer dreams of getting "the call" or "the email". What form did yours come in?

One of the many advantages of being published by a regional press is personal contact. The publisher contacted me in person at a social event, we discussed what was involved, and I dusted off my first of four manuscripts and began working with my editor, Judy Geary.


Who got to hear the good news first?

I went home and told my husband. Then I told my mom who soon after began writing a novel.

What is your typical writing day like?

I wish I had a typical writing day. I write in spurts of two months. Way in advance, I begin thinking about my characters and plot. The setting is the mountains of North Carolina which is perfect with the hollars and high peaks, the visitor attractions and sports, and the unpredictability of the weather. I liken it to the pressure built up behind a mountain dam - my head keeps filling up with a sense of what the characters will be going through. No details, just the anticipation of emotions and action. Once I have the emotional space and projects in the real world can be put off, I open the flood gates and write. I awake and begin writing long hand the next scene between fixing my and my husband's breakfasts and his lunch, feeding the birds and tending to the cat. Once my husband is off to work, I continue writing either long hand or at the computer. After a few hours, I do a half hour on the elliptical machine, have lunch and return to writing. While exercising, my mind is on the story. I love it. This is the grand, expanding part of the whole experience of creating these people and events.

We all know the "perfect" characters are not perfect at all but instead have qualities and flaws we can all identify with. So, how do you define a "perfect" hero?

He has to be strong but listens to others, like to help others, is a reader and a bit of a loner.


How about a "perfect" heroine?

She is open, educated, strong and tends to "do" first and think later.

Which room in your home is your favorite?

I treat the sofa in my living room like a lounge chair, curving into the high padded arm and putting my feet up. The lamp on the table behind the sofa is at the right height for me to write long hand. In the winter, I build a fire in the fireplace to my back and have the crackle of the wood burning as my music.


Which one would you love to wave a magic wand and change?

I'd love to add an exercise room.

Who's the kitty that rules the Bishop domain?

Hunter is our twenty year old Havana Brown. His Siamese voice wakes us around five in the morning. My husband Bob, my cousin Cynthia and I drove miles out in the country to find him. Bob and Cynthia loved his bold and friendly nature. I was drawn to his shy sister but Hunter's persistence won out. He inspired a gift book, MEOW MEANS ME! NOW! which has just been released.

Do you have special hobbies or collections that you wish you had more time to pursue?

Travel inspires me. We have hiked in Maine, New Hampshire, Pennsylvania, West Virginia, Virginia, Kentucky, Wyoming, Colorado and the Carolinas. We used to visit Dude Ranches until I discovered cruising. Since then, we've hiked in Alaska, Mexico and many of the Caribbean islands.

How did you and your husband meet?

Bob and I met at a Sunday evening singles dance when I had a real job in York, Pennsylvania. I asked him to dance, he declined, so we had to talk.


How long did you know him before the "big question was popped"?

I moved in with him after a month. After three years, I asked him to make it official. It turns out, he never mentioned it because he didn't want to be involved in a big ceremony and have to parade in front of a bunch of people. We simply went to the Justice of the Peace and flew to Wyoming to Crossed Sabres Ranch for our honeymoon. That trip inspired some of the scenes in my latest novel, MURDER AT BLUE FALLS.

What is your idea of "the" perfect romantic evening? You can do anything you wish. Is there food involved? Music? The stars are yours.

Because I get up around 5 am, I like to eat early. The romantic evening would have a chef prepared dinner around six or six-thirty, followed by an hour of dancing to live music, then a show. Come to think of it, the formal night on a cruise ship is perfect. Before dinner is the Captain's Party with a glass or two of champagne. Carrying a wallet and driving are not involved.

How do you describe Maggie Bishop?

Active, honest, loyal and organized.



How does Maggie Bishop's husband describe her?

I asked him. He said that I'm energetic, a doer (the opposite of a procrastinator), and a morning person.

MORE FUN...

The Holiday Season is in full swing! What is your favorite holiday
tradition? Did you carry it over from childhood, or is a new one?

I love the lights at Christmas so much that I've filled special (empty) wine
bottles with white lights and use them to brighten up a corner table. One
bottle is from my brother's wedding, one from my favorite local winery
(RagApple Lassie), and one was a Christmas gift from my parents.

North Carolina is so well known for it's beautiful foliage. What is your favorite tree?

Dogwood. When damaged from ice storms, high wind, or deer rubs, it simply grows more crooked and keeps on blooming in the early spring. It's a very hard and strong wood whose white blossoms dress up the brown mountainsides before Easter.

Are you right-handed or left-handed? Ever tried to write with the opposite hand?

I'm right handed and have played with writing with my left hand.

And lastly, no interview of a writer would be complete without this question: what is your favorite comfort food?

Dark chocolate with nuts. For celebrations, my favorite is Champagne.

Thank you, Maggie, for spending time with us today! It has been a lot of fun. Good luck with your writing!



By Brooke Wills

Romance Junkies Publishing Editor Pam Sacknea