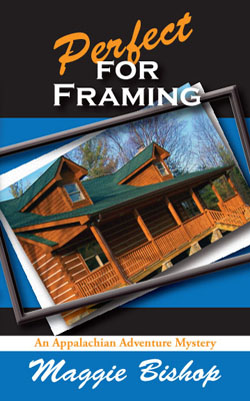 Book 2 And then ...
In Perfect for Framing, Jemma Chase's carpentry skills get her into another mystery. December at a dude ranch in the North Carolina mountains draws more skiers than horseback riders so Jemma turns from leading trail rides to her other two passions – carpentry and photography. Word of Jemma's skills with wood spreads to a development at the top of an Appalachian mountain where she hears complaints about the Property Owners' Association president. When Jemma tries to save her from a fire, Jemma's CSI wannabe instincts clash with Detective Tucker's investigation. When the lady dies, murder is suspected. When the lady's husband dies, Jemma sets out to prove it was not suicide. Detective Tucker investigates the neighbors, shop owners, the step-brother, real estate agent and even the agent's wife.
$12 ISBN 978-1-932158-84-77
Emeralds in the Snow Emerald Graham and Lucky Tucker are an unlikely pair. She, accustomed to a life of privilege in which everything's a bit of a game, including her teaching career. He, who has not let his life of struggle keep him from giving to his family, his community and the skiers he rescues on Sugar Mountain. Yet they seem to be finding an uneasy bliss when a treasure hunt and an old murder mystery threaten all they value.

Book of the Year for 2004

ISBN 1-932158-56-1

$12.00

 
 
 

Book 1 The Start

In Murder at Blue Falls, The Horse Found the Body, Detective Tucker sets out to investigate a mystery and interviews Jemma, daughter of the owners of a North Carolina guest ranch. Jemma's horse finds a body and her CSI wannabe instincts set in. Is his interest in her purely because he thinks she's guilty or is it personal?
Book of the Year for 2006
Read the First Chapters of Murder at Blue Falls
 
 

Appalachian Paradise is a fast paced novel of romance in which the heroine has to face the challenges of the outdoors, her inner restlessness, her estrangement from her father as well as the laid-back attitude of the Southern mountain man accompanying her. Suzanne's plan to hike alone to "get the city grime off her body" is thwarted by her uncle and father who con Wes into being a reluctant escort. Take this 5-day backpacking trip in Pisgah National Forest along with Suzanne and Wes.

Book of the Year for 2002



Click photo to Order Books page