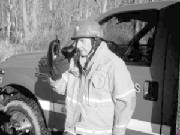 Bill Kaiser, fireman, first responder and local author.
Bill lives in Powder Horn Mountain and visits Boone almost every day. For most of his life, he was a columnist "up North" and escaped to the Triplett area about a dozen years ago. He's a past President of High Country Writers and is pursuing publication of his Civil War novel, Bloodroot.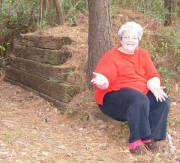 Jane Wilson, story-
teller and author.
Jane is from these mountains, although she's recently moved across the line into Tennessee. Her next book, Jane Tales, will be out in 2006. Her cookbook, Mountain Born and Fed, is a hit. Her local history book, Memaw's Memory Quilt, published by Parkway Publishers, won a North Carolina Historical Society award. On top of that, she is a storyteller!
Pearle and Lyle Bishop and Maggie and Bob live in Triplett.
B J Foster and Marian Coe are award winning authors.
The author, Maggie Bishop, went to several real dude ranches and thoroughly enjoyed each visit. Thanks to Crossed Sabres Ranch in Wyoming, Ridin' Hi Ranch in New York, and Powder Horn Ranch in Colorado for inspiring this story.