An established must-read romance author, Maggie Bishop has crossed into the mystery genre with finesse. Her latest novel is packed with suspense around a tightly-woven plot which begins with the poisoning of dogs and escalates to the murder of a local man. Throughout, she deliciously teases the reader with the bristly attraction between the investigating detective and the woman who found the dead man's body and who just might be a suspect. Set against the beautiful backdrop of Boone, North Carolina, with engaging characters, red herrings at every turn, and a galvanizing story line, this is a must-have, must-read. Highly recommended.
--- Christy Tillery French, Midwest Book Review
Review for Carolina Mountain Living by schuyler kaufman for Murder at Blue Falls
Maggie Bishop

Maggie Bishop's latest romance is also a murder mystery.
Bishop has chosen a new kind of setting-a dude ranch in the
western Carolina mountains-and all of her real-life characters
are in attendance.
Five years before, Jemma Chase had come back to Blue Falls
Ranch, the dude ranch her parents had set up in the Carolina
mountains. Now, dogs around the Watauga County community are being poisoned.
Almost immediately, we discover an unorthodox side to Bishop's engaging heroine: on the way into the sheriff's office to answer questions about the case, she thinks,"It's one thing to poison a person - but a dog?"
Standing six feet tall, Jemma intrigues Detective Tucker when he finds that he can look straight into her eyes. During her interview, Jemma reveals that, years before, she was arrested in Colorado on a drunk driving charge. Bishop loses no time in providing the conflict between these two well-matched protagonists: Tucker's pet abomination is drunk drivers.
The dog-poisonings quickly fade to the background, when, during a ride up a steep trail, leading a passel of guests, Jemma's horse reacts to a peculiar stench. Jemma, not one of those shrinking-violet heroines, immediately ties her horse and goes into the bushes to investigate.
You guessed it-a body. Now Tucker is a part of Jemma's daily life, and Jemma finds herself enthusiastically (and somewhat to Tucker's dismay) finding a CSI side to her make-up. As they combine their assets to investigate, Tucker (whose first name appears to be Detective) and Jemma find that their styles are not so incompatible after all. In a rip-snorting action scene, the murderer is discovered and bagged, the remaining dogs in the valley are safe, and Tucker and Jemma join Bishop's endearing circle of interrelated romance protagonists in Bishop's loosely linked series of Appalachian
adventure-romance novels.

Review by Nora Percival of Murder at Blue Falls by Maggie Bishop
Maggie Bishop's new mystery romance is another delight, in the same breezy style as the two previous novels which have made her popular with whodunit fans. This time she gives us a dude ranch in the High Country of North Carolina, where the reader shares the tourists' fun as well as the escalating dangers from a situation fraught with peril. As the intrepid heroine fights to prove her innocence by finding the real villain, we are also treated to her budding romance with the detective who suspects her. Hard to put down, this book will surely expand the author's popularity.
– Nora Percival, author of Weather of the Heart and Silver Pages on the Lawn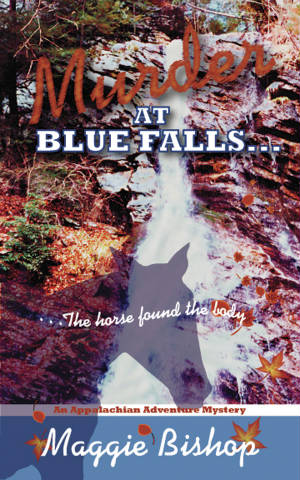 "I bought three of your books, Perfect for Framing, Murder at Blue Falls, and Emeralds in the Snow (my personal favorite). I now intend on
purchasing Appalachian Paradise! I read all three in one week! I
couldn't put them down. I have told everyone who will listen about your
books. I think you rival Nicholas Sparks, whom I previously thought
could not be rivaled. I like to visualize my characters and scenery and
you did that for me. I have these characters embedded in my thoughts,
from looks to expressions. Thank you for that.
Your new fan,

Sheri Lynn Williams"

"Maggie Bishop's Murder at Blue Falls will send chills down your spine as cold as the North Carolina Mountains in February." --B. J. Foster, award winning author of Bayou Shadows
"Author Maggie Bishop has written a book the equal of any of the popular fiction nicknamed 'Chick Lit' that is a staple in bookstands everywhere. ... could easily compete with any of the romance genre found on Best Seller Lists." – Rapid River Monthly (for Emeralds in the Snow)

"The book is a fun, fast read ... The characters are clearly drawn ... These are the kind of characters who shape the world around them and readers enjoy that kind of development. ... Readers can look forward to her next one." – JC Walkup, Smoky Mountain News (for Emeralds in the Snow)

"Gets off to a good start and maintains an exciting tension that manages to carry to the end.... A good part of Bishop's success is the set-up she's engineered." – Rob Neufeld, Asheville Citizen -Times (for Appalachian Paradise)