They think I poisoned the dogs. They drug me into the Sheriff's office and grilled me. Me! I'm a tax-paying, mostly law-abiding person. I admit that I do speed on the highway and occasionally forget to use a turn signal, but other than that, I do what is right.
Of course, when they found a dead man on our ranch, they questioned me again.
If it's the last thing I do, I'll find out who is behind these crimes.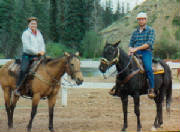 My main job is to lead trail rides on my parents' guest ranch. My other job is as a carpender. My passion is photography which comes in handy with my latest undertaking, solving crimes. I know it seems like I can't settle down into a career path but this time I'm willing to tackle college again. The way I figure it, I could train to be a detective while working on the job.
That all depends on how well I get along with the real officers. Detective Tucker isn't too enthuastic about me helping find the killer and the poisoner. He seems to think I'll either blotch his investigation or get hurt and I'm not sure which he's more worried about.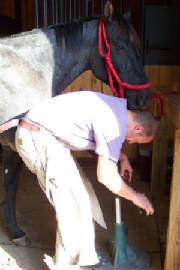 I don't think our ferrier, Joe White, would do it but he's been in the valley every time something strange is happening. Besides, he loves animals and wouldn't harm a dog.
There's the hunters, the haters and the revenge makers. My Aunt Alma thinks it's the aliens. She's the ranch chef and has lived in these parts most of her life. As she says, she got to these mountains as soon as she could.
Murder in my valley. Blue Falls Ranch doesn't want that kind of publicity.