Feel the wind in your face as you race down on skis on Sugar Mountain's slopes. High step with Emerald through the woods during a snow storm. Bark with Hambone as his owner shows up after a long day.
"Maggie Bishop brings a vast knowledge of the Appalachian region...displays the unique ability to draw the reader into each setting with vivid descriptions, to the point that the reader feels part of the scene...well-paced, the characters deftly drawn, the chemistry...searing, and the romantic story teasing enough to leave the reader anxiously waiting for 'the moment'."
--Christy Tillery French, Midwest Book Review
Lucky calling Hambone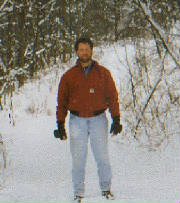 Few better ways to spend a snowy day. A wonderful Mountain Beach book.
-- Carolina Mountain Living