Lyle Bishop II, ski patrol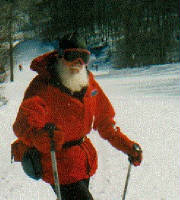 Sugar Mountain, NC, ski patrol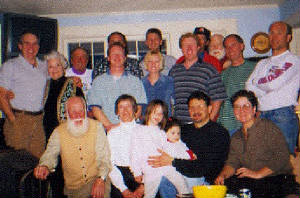 Common advice to writers is to write what you know and that is what I do. Emeralds in the Snow is set on Sugar Mountain, a ski slope in North Carolina. I trained with the National Ski Patrol for three seasons. This involved a Winter Emergency Care medical course, annual refresher training, and practice lift evacuations each fall. I played the victum at times, riding down in the rescue sled with a candidate on the lead poles and another one on the trailing safety rope. Talk about serious fun!
My parents were ski patrollers for over twenty years. Lyle Bishop, my dad, started skiing when he was 63 and was Sugar's Skiing Santa for over a decade. The beard and hair were real but the belly was all foam padding. Pearle Munn Bishop, my mom, was a nurse and saw that the Patrol Room care and paperwork were expertly handled.
Thank you for visiting.
Maggie Bishop, hiking in New Hampshire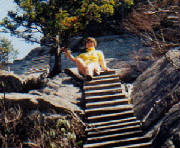 My first book, Appalachian Paradise, is a spicy novel about a five-day backpacking trip and is based on my own trip on the Appalachian Trail in the Smokies years ago. Believe me, bathing under a waterfall will take your breath away! The book is set near Boone, NC, since my more recent hikes have been along the Blue Ridge Parkway, which I can see from my home. Bob Gillman, my husband, and I take week-long hiking vacations. We've been to the White Mountains in New Hampshire, the Adirondacks and wineries around the finger lakes in New York, Skyline Drive in Virginia, Kentucky's Daniel Boone National Forest and Mammoth Cave, Eleven Mile Canyon and Pike National Forest in Colorado, Lake Powell in Arizona/Utah (we travelled and stayed on a houseboat), Moosehead Lake and Poland Springs in Maine, Monongahela National Forest and many state parks in West Virginia, all over Pennsylvania where I lived for thirteen years, and many North Carolina trails including my favorite, Grandfather Mountain.
Some parts of Appalachian Paradise are true and some are fiction. You get to choose which is which!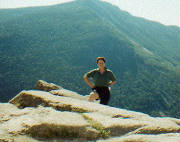 Author hiking in West Virginia
The forth cousin's novel will be set in August, hurricane season. Many hurricanes track up the Appalachians and dump flood causing rains. He's a climbing expert whose skills were developed in the military.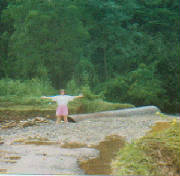 Author in a flooded out road bed
Who knows, I may do a novel about golf in the High Country.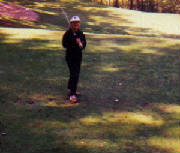 Golf at Rhone Valley, Tennessee